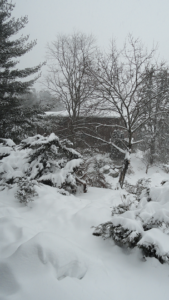 Good Day
Lifting up His WORD of Promise and Truth to you and Yours on this Wintry and Chilly Day.
May His Eternal Light of Hope shine brightly bringing forth, His Spirit of Freedom, calming, freeing, your weary spirit, releasing, removing the lingering, webs, clouds of doubt, discouragement and fear.
May you seek to let, go and breath in God's Eternal Promise of Love and Peace filling your Soul with renewed HOPE in the Almighty Father of Heaven and Earth, Creator, Redeemer of all Life; the True Author of your Story.
Through Christ Jesus, may His reigning showers of Peace, Power and Hope flow through waves of His GRACE, within your spirit shoring up your heart with engaged courage to live with His destined Vision for you His beloved and redeemed Child.
His LOVE is relentless and mightier than a raging sea, never thwarted by shores or skies of darkness, ever brilliant and piercing forth across the horizon's, landscapes; never ceasing, always illuming the way for the weary traveler; calling us forth to step across a barren deserts or daunting jungles, removing webs of confusion, loosening, piercing His Light, ever shining forth, turning rumble into streams glistening as a stained glass window at dawn.
refining, removing, unwanted stones, weeds;
unwinding , releasing Glorious hues of light and HOPE, tenderly healing and reshaping our hearts with brilliant rays of light and color
Arise, tired one, step out, into the gentle Mercies of His Mighty Power, unwavering grip of His Love Light; piercing all darkness and setting us ever so gently, yet firmly on the Rock of Ages the Great I AM, deliverer of all Grace and
Hope today tomorrow  and forever more.
Amen.
J812light 2-11-17