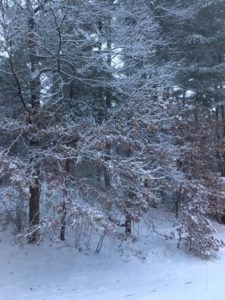 May the Light of God's touch within your heart rekindle your weary spirit; ever so gently, covering your heartstrings; reaching in; embracing your world with His Peace, taking in droplets of Hope, etched in His light.   Tenderly  illuming our inner pathways as we seek refuge.
Shadows lifted,  brokenness embraced, with balms of Light warmth of Peace, illuming Hope again witnessed on this wintery Advent Sunday.
This His gentle covering Love, Hope, and Peace; rekindling dimming flames within us.   His  gift, His Presence, woven within, gently covering over us.
His abiding Spirit;  mending, restoring, weaving around and through  our hearts. His Prayer Covering inviting us, with His a gift, His promise, His morning begun anew among us. Amen.
Gentle flakes of newly fallen snow; now embraced by His Light and the chills  it ever gently become rekindled within your Soul